Over the first half of 2020, the rate of traffic deaths jumped. The spike, safety experts point to, largely is due to increased speed - drivers are taking greater risks on less congested roadways.
Traffic congestion and rush hour traffic is down across the country according to the INRIX Traffic Scorecard. Billings, MT, ranked as the 138th highest congested city in the U.S., saw a drop of 27% in congestion between 2019 and 2020; however, the peak speed in its city roadways increased from 27mph in 2019 to 30mph in 2020.
According to the National Highway Traffic Safety Administration data, even small increases in speed (from 40 to 50 miles an hour, for example) led to much deadlier motor vehicle accidents. Though the effects of the pandemic reduced traffic, the rate of motor vehicle accident fatalities jumped by 18%, the highest it has been in the last 12 years.
"Preliminary data tells us that during the national health emergency, fewer Americans drove, but those who did took more risks and had more fatal crashes," the safety agency said in a letter addressed to the nation's drivers.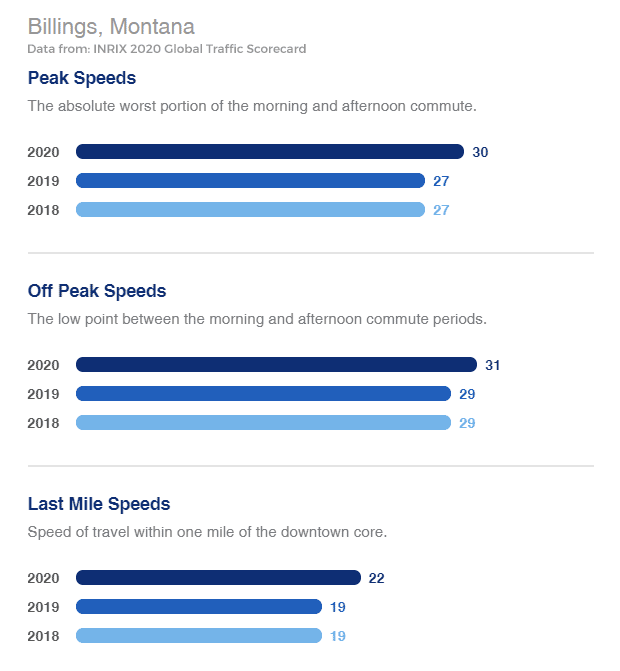 "We think the big culprit is speeding," said Jonathan Adkins, executive director of the Governors Highway Safety Association, to the Associated Press. Early in the pandemic, drivers found open roads and drove faster. The behavior continued even as traffic volumes recovered, Adkins said.
Pandemic aside, Montana ranks in the top 10 states for per capita traffic fatalities. Now more than ever Montana drivers need to wear their seat belts and reduce their speed in order to avoid car accidents and injuries.
Most Congested Cities in the US
The following data is presented from the INRIX Traffic Scorecard.
| Ranking | City |
| --- | --- |
| No. 1 | New York City, NY |
| No. 2 | Philadelphia, PA |
| No. 3 | Chicago, IL |
| No. 4 | Boston, MA |
| No. 5 | Los Angeles, CA |
| No. 10 | Dallas, TX |
| No. 50 | Jacksonville, FL |
| No. 100 | Macon, GA |
| No. 138 | Billings, MT |