In Montana, one in every ten drivers is uninsured according to the 2015 report from the Insurance Research Council. Getting into a car accident with one of these drivers can be financially devastating, especially if you are assuming their insurance will cover the cost of damage.
Even if the other motorist has insurance, there's a good chance they're only carrying the minimum required by the state or possibly even less. In Montana, the minimum insurance coverage requirement is liability coverage with only $25,000 for body injuries and $20,000 for property damage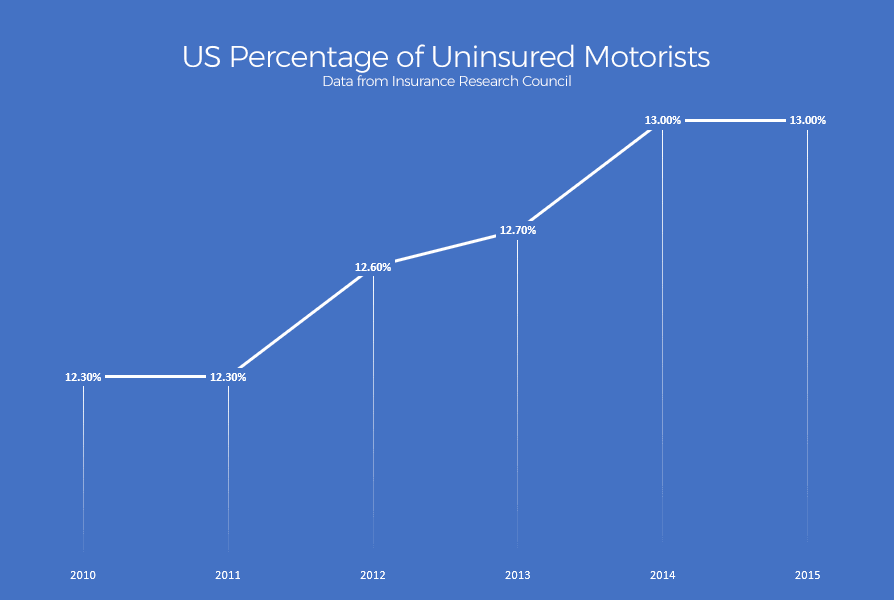 According to a 2016 article in the Huffington Post, Montana is third most dangerous state to drive in with a high percentage of alcohol related (54% - 20th highest) and rural road accidents (93% - first highest). With this higher probability of accidents, especially on rural roads, should you be involved in an accident and sustain any injury, the state minimum coverage is barely going to cover the ride to the hospital let alone any treatment or hospital stay.
To help protect yourself in these situations, insurance companies offer Uninsured Motorist Coverage and Underinsured Motorist coverage. These are designed to pay for damage when you're injured in an accident caused by someone who doesn't have insurance or doesn't have enough. Some states require this additional coverage, however, in Montana it's not a requirement.
Montana Statistics
Road deaths per 100,000: 18.8 (12th lowest)
Total roadway fatalities in 2014: 192 (12th lowest)
Percentage of residents using seat belts: 74% (tied-4th lowest)
Percentage of drivers killed w/ BAC >= 0.08: 54 (20th highest)
Percentage of fatal crashes on rural roads: 93% (the highest)
What exactly is Uninsured Motorist Coverage
Basic liability coverage is the insurance you buy to cover loss caused by you; for example, if you run a light and hit another vehicle. With one in ten Montana drivers failing to keep or maintain the required state liability coverage ($25,000), uninsured motorist coverage pays for your economic losses when you're injured in an accident caused by someone who doesn't have insurance.
Uninsured Motorist Example
You get into a crash resulting in medical bills totaling $20,000. Ordinarily you could file a claim for $20,000 from the at-fault motorist's liability coverage, but since the other driver is uninsured, you need to tap into your Uninsured Motorist Insurance. As long as your limits are above $20,000, you should be able to recoup all losses.
What exactly is Underinsured Motorist Coverage
With Montanans only required to have $25,000 of liability coverage, if you are involved in a serious accident, this amount has a good chance of getting exhausted quickly from basic ambulance and hospital charges. Underinsured motorist coverage is used to cover any remaining losses.
Underinsured Motorist Example
Following the above example, if your accident results in medical bills totaling $50,000. After the first $25,000 of liability insurance is exhausted the rest of the amount would be covered by the underinsured motorist coverage. As long as your limits don't exceed your coverage, you should be able to recoup all losses.
Knowing Your Coverage
Both uninsured and underinsured are available as part of your automobile insurance coverages. Amounts and coverages can vary depending on what you've set up with your insurance agent. You should be able to login to your insurance carrier or view a recent bill to see what your current coverage is. Limits are usually written in three numbers (eg. $25,000/$50,000/$24,000). The first represents the maximum bodily injury for a single person while the second is the maximum for the entire accident. The third number is your coverage for property damage.
It's important to note too that both uninsured and underinsured are personal and portable, meaning that you can use these coverages even if you are not in your own vehicle. For example, these can be used by pedestrians who may be struck outside of their cars.
 Uninsured/Underinsured Bodily Injury Covers
Hospital bills or medical care expenses
Lost wages because you've been unable to work due to your injury
Replacement services, such as hiring cleaners or babysitters because your injury incapacitates you in normal household chores
 Uninsured/Underinsured Property Damage Covers
Damage to your vehicle
Damage to your home
Claims Process - Filing a Claim under Uninsured or Underinsured
Filing a Claim for uninsured or underinsured can sometimes be a confusing process since your insurance carrier is basically taking the place of the other driver's. As a result, you may be placed in a position of having to prove your claim. Your carrier might only pay when they've determined the other driver is responsible for your injuries, which may require a court judgement to determine the other driver was at fault. The amount you receive is also governed to an extent by Montana's negligent laws.
The claims process can be overwhelming to deal with when you are focusing on your recovery. You don't have to figure this out on your own. Odegaard Miller Injury Lawyers can take this legal burden off your shoulders. Our firm has the skills to handle accident cases involving personal vehicle accidents as well as commercial. We fight hard for your Maximum Compensation. Regardless of the nature of your accident, we can help you pursue the compensation you deserve. Contact our legal team today.
---