All Staff
Jay Dufrechou
Of Counsel, Odegaard Kovacich Snipes, PC
---
With multiple office locations across Montana, Odegaard Kovacich Snipes has experience serving clients throughout the state.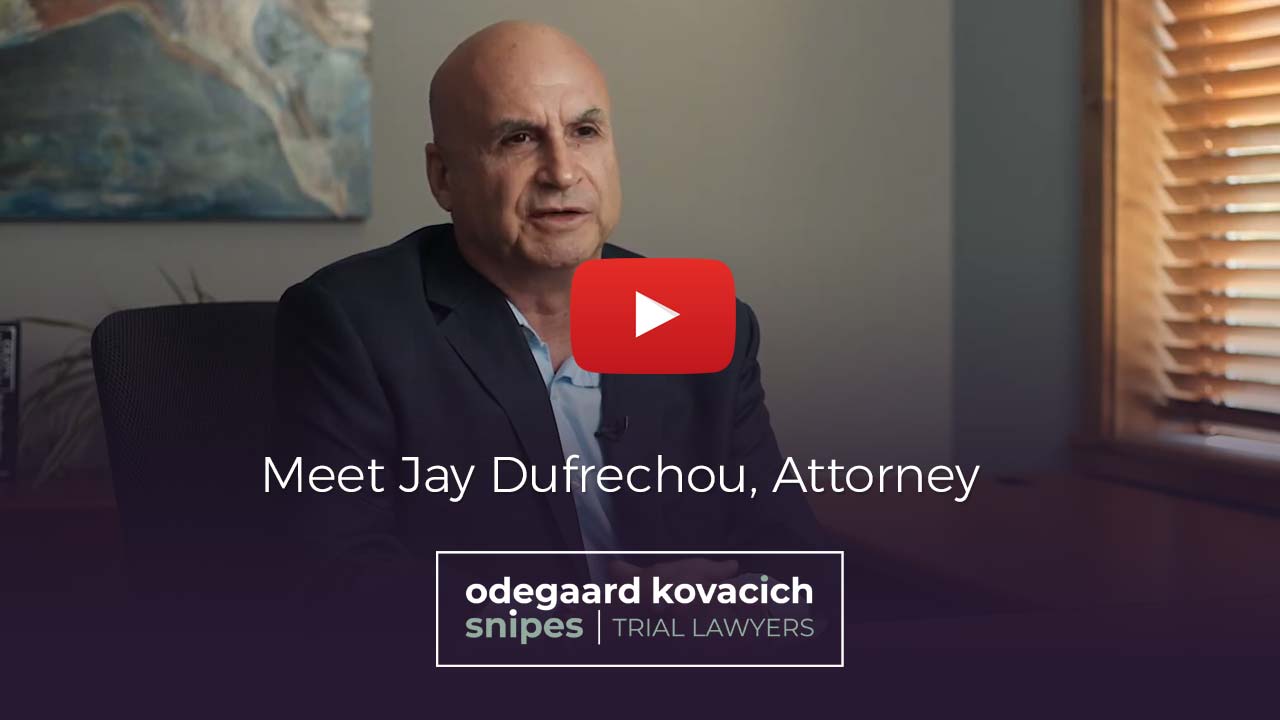 Biography
Jay Dufrechou came to Montana in 1999 chasing his love of nature and wanting his three children to grow up in Big Sky country. Living outside Helena with horses, goats, chickens, and dogs, he worked as Hearing Examiner for the Montana Workers' Compensation Court from 1999 through 2005. Attending trials around the state, discussing the law and evidence with the judge, and drafting decisions, he learned to see workers' compensation disputes from the Court's perspective. He soon became popular as a settlement master in workers' compensation claims, which gave him the chance to work directly with injured workers, insurance adjusters, and the attorneys for both sides, negotiating settlements that allowed injured workers to avoid the lengthy court process and take control over their own futures.
In 2006, Jay left the Court to establish Dufrechou Law Firm, P.C., where he advocated for injured workers in the workers compensation system, as well as continuing his mediation practice. In 2014, with children grown, Jay moved mostly to the east coast to assist his family, but traveled frequently back to Montana for statewide workers' compensation mediations. By now, Jay has mediated over 500 workers' compensation claims, with a settlement rate over 90%.
In February 2018, back in Montana full time, Jay was honored to join the Helena office of the firm now known as Odegaard Kovacich Snipes. Having mediated numerous cases with Paul and A.J. over the years, he has always admired their personal dedication to their clients and commitment to strong advocacy, whether through the Court system or working toward the best possible settlement. He feels very fortunate to join the entire Odegaard Kovacich Snipes team in serving injured workers throughout Montana.
Prior to coming to Montana, Jay worked as an attorney in California, in a large firm focusing on labor and employment law, then as a Deputy District Attorney in San Jose, where he tried criminal cases, argued law and motion matters in state and federal trial and appellate courts, and received the first Clayton Haupert award for excellence in advocacy in non-trial matters. Along the way, Jay earned a doctoral degree in transpersonal psychology, writing a dissertation gathering stories written by people who experience deep spiritual connection with nature, honored by the Humanistic Division of the American Psychological Association in 2002. These stories and his experience in Montana became a book published in 2015, Moving through Grief, Reconnecting with Nature. Jay's experience in psychology assists him in meeting people where they are and understanding the complicated dynamics between physical injuries, chronic pain and resulting psychological challenges.
Jay graduated with Honors from Stanford University in 1980, majoring in English with Emphasis in Creative Writing, and was elected to Phi Beta Kappa. He attended law school at the University of California, Berkeley, graduating in 1984 and winning an award for brief writing. Jay has taught in various psychology programs, including developing a course in Law and Ethics, and continues to supervise dissertation research and facilitate body-mind-spirit workshops nationally and internationally. He is licensed to practice law in Montana and California. Jay continues to be amazed he managed to create a life in Montana, hiking and enjoying the outdoors whenever possible. He is never happier than when reaching the top of a mountain and looking out over glorious Montana country.
Education
University of California, Berkeley, California, J.D.- 1984
Stanford University, Stanford, California, B.A., Honors, Phi Beta Kappa- 1980 Major: English with a focus in Creative Writing
Bar Admissions